Dead Girl (2006) Showtimes and Tickets
Read Movie Reviews about Dead Girl (2006) Write a Movie Review for Dead Girl (2006)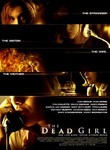 Synopsis...
"The Dead Girl" is a quintet of stories about seemingly unrelated people whose lives converge around the murder of a young woman. "The Stranger" is about the woman who finds the body. "The Sister," a forensics graduate student, is torn between her mother's pressure to hold onto hope for her abducted sister's return and her longing to move forward with her own life "The Wife" is trapped in an intense hate/love relationship with her husband. A terrible discovery about his connection to the dead girl's murder forces her to confront what she though she knew about him--and herself. "The Mother" searches for answers about her runaway daughter's life and is confronted with a series of revelations that change the course of her own life. "The Dead Girl" is a fireball: hyper, volatile, self-destructive and subject to hair-trigger bursts of uncontrollable rage. She also has an innocent and child-like side. She dreams about improving her life and becoming a good mother to her young daughter. These characters are linked not only by their connection to a brutal murder but also by the difficult hand that life has dealt them. The film scrutinizes their inner struggles to overcome or surrender to their misfortunes.
Cast and Crew
Starring
Mary Steenburgen, Toni Collette, Josh Brolin, Giovanni Ribisi, Brittany Murphy, Piper Laurie, Kerry Washington, James Franco, Bruce Davison, Rose Byrne, Marcia Gay Harden, Nick Searcy, Mary Beth Hurt, Akiyoshi Kumiko
Directed by Karen Moncrieff
Produced by Richard Wright, Eric Karten, Henry Winterstern, Gary Lucchesi, Kevin Turen, Tom Rosenberg
Written by Karen Moncrieff
Searching for Showtimes ...
Please specify your location using the form below
Write a review for Dead Girl (2006)