Cowboy Up Showtimes and Tickets
Read Movie Reviews about Cowboy Up Write a Movie Review for Cowboy Up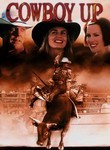 Dvd Release Date: 2002-09-03
Genre: Drama,
Rating: PG-13
Duration: 1hr 45min
Synopsis...
Rising rodeo star Ely Braxton is recovering from injuries that almost took his life, but he is determined to follow his father's footsteps as a bullriding champion. His brother, Hank is a rodeo clown; and though the two work closely together in the corral, their friendship becomes threatened when he starts dating a woman that Hank's always had a thing for.
Cast and Crew
Starring
Molly Ringwald, Kiefer Sutherland, Kieu Chinh, Melinda Dillon, Pete Postlethwaite, Daryl Hannah, Marcus Thomas, Bo Hopkins, Georgina Lightning, Russell Means, Timothy Daly, Al Corley, Robert Miranda
Directed by Xavier Koller
Produced by Al Corley, Bart Rosenblatt, Eugene Musso
Written by James Redford
Searching for Showtimes ...
Please specify your location using the form below
Write a review for Cowboy Up