Confessions of a Shopaholic Showtimes and Tickets
Read Movie Reviews about Confessions of a Shopaholic Write a Movie Review for Confessions of a Shopaholic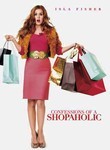 Release Date: 2009-02-13
Genre: Drama,
Rating: PG
Duration: 1hr 52min
Synopsis...
In the glamorous world of New York City, Rebecca Bloomwood is a fun-loving girl who is really good at shopping--a little too good, perhaps. She dreams of working for her favorite fashion magazine, but canÂ't quite get her foot in the door--until ironically, she snags a job as an advice columnist for a financial magazine published by the same company. As her dreams are finally coming true, she goes to ever more hilarious and extreme efforts to keep her past from ruining her future.
Cast and Crew
Starring
Julie Hagerty, John Lithgow, John Goodman, Wendie Malick, Kristin Scott Thomas, Christine Ebersole, Lynn Redgrave, Hugh Dancy, Joan Cusack, Michael Panes, Isla Fisher, Jim Holmes, Matt Servitto, Claudia Rocafort, Clea Lewis, Leslie Bibb, Nick Cornish, Krysten Ritter, Marceline Hugot, Ilana Levine, Fred Armisen, Molly Regan, Ed Helms, Steve Lantz, Almudena Alcazar, Timothy J. Cox, Ashley Bates, Laura Hunter, Stephen Guarino, Joseph Basile
Directed by P.J. Hogan
Produced by Jerry Bruckheimer
Written by Sophie Kinsella, Tracey Jackson, Tim Firth
Searching for Showtimes ...
Please specify your location using the form below
Write a review for Confessions of a Shopaholic