Choke (2008) Showtimes and Tickets
Read Movie Reviews about Choke (2008) Write a Movie Review for Choke (2008)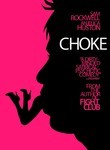 Release Date: 2008-09-26
Genre: Comedy, Drama
Rating: R
Duration: 1hr 29min
Synopsis...
Victor Mancini, a medical-school dropout, is an antihero for our deranged times. Needing to pay elder care for his mother, Victor has devised an ingenious scam: he pretends to choke on pieces of food while dining in upscale restaurants. He then allows himself to be "saved" by fellow patrons who, feeling responsible for Victor's life, go on to send checks to support him. When he's not pulling this stunt, Victor cruises sexual addiction recovery workshops for action, visits his addled mom, and spends his days working at a colonial theme park.
Cast and Crew
Starring
Anjelica Huston, Sam Rockwell, Kelly Macdonald, Joel Grey, Viola Harris, Clark Gregg, Bijou Phillips, Heather Burns, Jonah Bobo, Brad William Henke, Paz de la Huerta, Suzanne Shepherd, Matt Gerald, Kate Blumberg, Gillian Jacobs, Judith Roberts, Chuck Palahniuk, Joseph Basile, Isiah Whitlock Jr.
Directed by Clark Gregg
Produced by Beau Flynn, Johnathan Dorfman, Tripp Vinson, Temple Fennell
Written by Clark Gregg, Chuck Palahniuk
Searching for Showtimes ...
Please specify your location using the form below
Write a review for Choke (2008)