Chocolate Showtimes and Tickets
Read Movie Reviews about Chocolate Write a Movie Review for Chocolate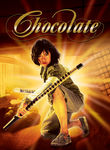 Dvd Release Date: 2009-02-10
Genre: Action/Adventure,
Rating: R
Duration: 1hr 28min
Other movies in series: Chocolate 2
Synopsis...
Zen, a girl born from an affair between two members of rival crime syndicates, lives in recluse with her mother. She learns how to fight by absorbing martial arts skills from what she sees on TV and from the Muay Thai boxing school next to her home. When ZenÂ's mother falls ill she sets out on an ambitious quest to settle the debts still owed from her motherÂ's gangster days, which leads her to confrontations with dangerous criminals, as well as an unexpected encounter with her father.
Searching for Showtimes ...
Please specify your location using the form below
Write a review for Chocolate