Cats & Dogs: The Revenge of Kitty Galore Showtimes and Tickets
Read Movie Reviews about Cats & Dogs: The Revenge of Kitty Galore Write a Movie Review for Cats & Dogs: The Revenge of Kitty Galore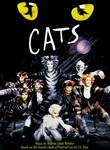 Release Date: 2010-07-30
Genre: Action/Adventure, Comedy
Rating: PG
Duration: 1hr 22min
Also available in: 3D
Synopsis...
In the age-old battle between cats and dogs, one crazed feline has taken things a paw too far. Kitty Galore, formerly an agent for cat spy organization MEOWS, has gone rogue and hatched a diabolical plan to not only bring her canine enemies to heel, but take down her former kitty comrades and make the world her scratching post. Faced with this unprecedented threat, cats and dogs will be forced to join forces for the first time in history in an unlikely alliance to save themselves - and their humans - in "Cats & Dogs: The Revenge of Kitty Galore," a comedy that blends live action with state-of-the-art puppetry and computer animation. It's time for the fur to fly.
Cast and Crew
Starring
Alec Baldwin, Nick Nolte, Bette Midler, Chris O'Donnell, Roger Moore, Christina Applegate, Tobey Maguire, Joe Pantoliano, James Marsden, Neil Patrick Harris, Wallace Shawn, Michael Clarke Duncan, Sage Brocklebank, Bumper Robinson, Katt Williams, Sean Hayes, Fred Armisen, Pascale Hutton, J.K. Simmons, Rondel Reynoldson, Carlos Alazraqui, Grey DeLisle, Malcolm Stewart, Michael Beattie, Phil LaMarr, Karen Strassman, Jack McBrayer
Directed by Brad Peyton
Produced by Andrew Lazar, Brent O?Connor, Bruce Berman, Polly Johnsen, Polly Cohen Johnsen
Written by Steve Bencich, Glenn Ficarra, John Requa, Ron J. Friedman
Searching for Showtimes ...
Please specify your location using the form below
Write a review for Cats & Dogs: The Revenge of Kitty Galore