Cashback Showtimes and Tickets
Read Movie Reviews about Cashback Write a Movie Review for Cashback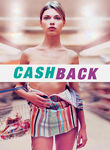 Dvd Release Date: 2007-07-24
Genre: Comedy, Drama
Rating: R
Duration: 1hr 42min
Synopsis...
When art student Ben Willis is dumped by his girlfriend Suzy, he develops insomnia. To pass the long hours of the night, he starts working the late night shift at the local supermarket. There he meets a colorful cast of characters, all of whom have their own "art" in dealing with the boredom of an eight-hour shift. Ben's art is that he imagines himself stopping time. This way, he can appreciate the artistic beauty of the frozen world and the people inside it--especially Sharon, the quiet checkout girl, who perhaps holds the answer to solving the problem of Ben's insomnia.
Cast and Crew
Starring
Jared Harris, Sean Biggerstaff, Nia Roberts, Emilia Fox, Shaun Evans, Michelle Ryan, Samantha Bloom, Stuart Goodwin, Michael Dixon, Daphne Guinness, Lene Bausager, Lucy Holt, Marc Pickering, Keeley Hazell
Directed by Sean Ellis
Produced by Daphne Guinness, Sean Ellis, Lene Bausager
Written by Sean Ellis
Searching for Showtimes ...
Please specify your location using the form below
Write a review for Cashback