Camp (2003) Showtimes and Tickets
Read Movie Reviews about Camp (2003) Write a Movie Review for Camp (2003)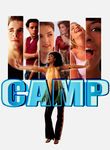 Release Date: 2003-09-05
Genre: Drama,
Rating: NR
Duration: 1hr 36min
Synopsis...
After a series of Broadway flops, songwriter Bert Hanley (Dixon) goes to work at a musical camp for young performers. Inspired by the kids, he finds an opportunity to regain success by staging an altogether new production.
Cast and Crew
Starring
Don Dixon, Daniel Letterle, Joanna Chilcoat, Anna Kendrick, Vince Rimoldi, Stephen Sondheim, Mohamed Kholai, Aymen Rifai, Yassine Jamal
Directed by Todd Graff, Abdel Aziz Hachad
Produced by Michael Shamberg, Danny DeVito, Stacey Sher, Pamela Koffler, Christine Vachon, Katie Roumel
Written by Todd Graff
Searching for Showtimes ...
Please specify your location using the form below
Write a review for Camp (2003)