Bully (2001) Showtimes and Tickets
Read Movie Reviews about Bully (2001) Write a Movie Review for Bully (2001)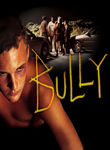 Dvd Release Date: 2002-01-22
Genre: Drama,
Rating: R
Duration: 1hr 40min
Synopsis...
A film based on the true-life murder of Bobby Kent. Kent, a Hollywood, Florida teenager was murdered by his own circle of friends once they tired of being bullied by him.
Cast and Crew
Starring
Leo Fitzpatrick, Brad Renfro, Michael Pitt, Nick Stahl, Rachel Miner, Daniel Franzese, Bijou Phillips, Kelli Garner, Larry Clark
Directed by Larry Clark
Produced by Don Murphy, Jordan Gertner, Chris Hanley, Fernando Sulichin, David McKenna
Written by David McKenna, Roger Pullis
Searching for Showtimes ...
Please specify your location using the form below
Write a review for Bully (2001)