Breaking and Entering (2007) Showtimes and Tickets
Read Movie Reviews about Breaking and Entering (2007) Write a Movie Review for Breaking and Entering (2007)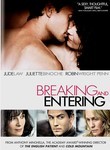 Dvd Release Date: 2007-05-08
Genre: Drama,
Rating: R
Duration: 2hrs 00min
Synopsis...
A young Muslim thief breaks into the office of a yuppie architect in London, afterwards the architect re-evaluates his life. A series of related events intersects the lives of the two men with a variety of other people in the seedy inner-city area of Kings Cross.
Cast and Crew
Starring
Robin Wright, Juliette Binoche, Jude Law, Martin Freeman, Ray Winstone, Juliet Stevenson, Vera Farmiga, Anna Chancellor, Mark Benton, Caroline Chikezie, Daon Broni, James Cook, Velibor Topic, Romi Aboulafia, Ed Westwick, Roberto Purvis
Directed by Anthony Minghella
Produced by Sydney Pollack, Anthony Minghella
Written by Anthony Minghella
Searching for Showtimes ...
Please specify your location using the form below
Write a review for Breaking and Entering (2007)