Bonneville Showtimes and Tickets
Read Movie Reviews about Bonneville Write a Movie Review for Bonneville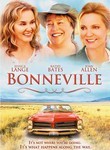 Release Date: 2008-02-29 (Limited)
Genre: Drama,
Rating: PG
Duration: 1hr 44min
Synopsis...
When Arvilla Holden promises her husband that she'll cremate him and scatter his ashes, she doesn't expect her promise to be called so soon. Neither does she expect a high-stakes fight with her step-daughter Francine, a Santa Barbara socialite determined to give him a proper burial. Convinced that she has no choice but to surrender the ashes to Francine, Arvilla sets off on a journey from Pocatello, Idaho, to Santa Barbara. Her friends, life-of-the-party Margene and goody-two-shoes Carol, volunteer to go with her for moral support. Expecting to fly, they're surprised when Arvilla picks them up in her '66 Pontiac Bonneville convertible, and shocked when she cruises serenely past the airport and hijacks them on a reluctant road trip that becomes the ride of their lives.
Cast and Crew
Starring
Tom Skerritt, Jessica Lange, Joan Allen, Kathy Bates, Victor Rasuk, Kari Hawker, Christine Baranski, Lyn Vaus, Jodi Russell, Arabella Field
Directed by Christopher N. Rowley
Produced by Robert May, John Kilker
Written by Daniel D Davis, Christopher N. Rowley
Searching for Showtimes ...
Please specify your location using the form below
Write a review for Bonneville