Blade: Trinity Showtimes and Tickets
Read Movie Reviews about Blade: Trinity Write a Movie Review for Blade: Trinity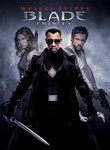 Synopsis...
Deep in a remote desert, vampire leaders are resurrecting Dracula, the horrific creature who spawned their race. Now known as Drake, this awesome vampire has unique powers that allow him to exist in daylight. To make things even more difficult for Blade, the vampirism leadership launches a smear campaign against him, targeting him as a murderous monster and sending the FBI after him. After Blade and his mentor, Whistler, have an explosive showdown with FBI agent Cumberland and his men, it's evident that the Daywalker will need some assistance. Blade reluctantly teams up with the Nights talkers, a group of human vampire hunters led by Whistler's beautiful daughter, Abigail, and the wisecracking Hannibal King. While their blind scientist Sommerfield works on creating a final solution for the vampire problem, the Nights talkers launch a relentless series of battles against Dracula's gang of the undead, led by the powerful vampire Danica Talos and her fanged acolytes Asher and Grimwood. Ultimately, Blade finds himself taking on the greatest vampire of all time, as his own fate and that of humanity hang in the balance.
Cast and Crew
Starring
Wesley Snipes, Callum Keith Rennie, Ryan Reynolds, Parker Posey, Natasha Lyonne, Kris Kristofferson, Christopher Heyerdahl, James Remar, Jessica Biel, Eric Bogosian, Patton Oswalt, Dominic Purcell, Kett Turton, Mark Berry, Gabriel Beristain, John Michael Higgins, Kimani Ray Smith, Leonar Varela, Chris Gorak, Triple H, Alejandro Rae, Erica Cerra
Directed by David S. Goyer
Produced by Lynn Harris, David S. Goyer, Wesley Snipes, Peter Frankfurt, Avi Arad, Toby Emmerich
Written by David S. Goyer
Searching for Showtimes ...
Please specify your location using the form below
Write a review for Blade: Trinity