Big Trouble Showtimes and Tickets
Read Movie Reviews about Big Trouble Write a Movie Review for Big Trouble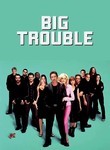 Dvd Release Date: 2002-10-08
Genre: Comedy,
Rating: PG-13
Duration: 1hr 33min
Synopsis...
The story of how a mysterious suitcase brings together, and changes, the lives of a divorced dad, an unhappy housewife, two hit men, a pair of street thugs, two love struck teens, two FBI men and a psychedelic toad.
Cast and Crew
Starring
Tim Allen, Janeane Garofalo, Stanley Tucci, Rene Russo, Omar Epps, Patrick Warburton, Jay Rasumny, Ben Foster, Zooey Deschanel, Jason Lee, Johnny Knoxville, Tom Sizemore, Daniel London, Dennis Farina, Jack Kehler, Andy Richter, DJ Qualls, Dave Corey, Antoni Corone, Michael McShane, Heavy D, David Koepp, Barry Sonnenfeld, Ruben Gomez, Siobhan Fallon Hogan, Cullen Douglas, Lars Arentz-Hansen
Directed by Barry Sonnenfeld
Produced by Barry Josephson, Graham Place, Barry Sonnenfeld, Tom Jacobson
Written by Robert Ramsey, Matthew Stone, Martha Stone
Searching for Showtimes ...
Please specify your location using the form below
Write a review for Big Trouble