Beyond a Reasonable Doubt Showtimes and Tickets
Read Movie Reviews about Beyond a Reasonable Doubt Write a Movie Review for Beyond a Reasonable Doubt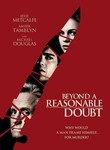 Dvd Release Date: 2009-12-22
Genre: Drama,
Rating: PG-13
Duration: 1hr 45min
Synopsis...
High profile lawyer, Mark Hunter has an impeccable record putting criminals behind bars and is a shoo-in for governor in the upcoming election. But when ambitious rookie journalist, C.J. Nicholas begins investigating Hunter for tampering with evidence to secure his convictions, the district attorney's perfect record is up for scrutiny. Commencing a risky game of cat-and-mouse with Hunter, C.J. frames himself as a murder suspect to catch the corrupt D.A. in the act. Romantically involved with C.J. but unaware of his assignment, assistant D.A. Ella Crystal becomes caught between her boss's political ambitions and C.J's dangerous exposé. As mounting evidence stacks up against both men, Ella's own life becomes threatened when she discovers incriminating proof that puts the fate of both C.J's innocence and Hunter's reputation in her hands.
Cast and Crew
Starring
Michael Douglas, Joan Fontaine, Dana Andrews, Arthur Franz, Jesse Metcalfe, Joel David Moore, Amber Tamblyn, Orlando Jones, Joyce Taylor, Sidney Blackmer, Shepperd Strudwick, Charles Evans, Robin Raymond, Michael C. 'Mike' Allen, Tony Bentley, Lawrence P. Beron, David Born, Edrick Browne, Barbara Nichols, Edward Binns, Philip Bourneuf
Directed by Fritz Lang, Peter Hyams
Produced by Mark Damon, Jonathan S Marshall; Kevin Cornish; James Portolese; Tarmara Stuparich de La Barra, Michael P Flannigan, Ted Hartley, Jonathan S. Marshall; Kevin Cornish; James Portolese; Tarmara Stuparich de La Barra, Limor Diamant, Moshe Diamant
Written by Peter Hyams, Douglas Morrow
Searching for Showtimes ...
Please specify your location using the form below
Write a review for Beyond a Reasonable Doubt