Battle in Seattle Showtimes and Tickets
Read Movie Reviews about Battle in Seattle Write a Movie Review for Battle in Seattle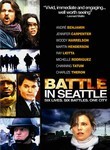 Synopsis...
In 1999, five days rocked the world as tens of thousands of demonstrators took to the streets of Seattle in protest of the World Trade Organization (WTO). Environmentalists, consumer advocates, labor unions, students, anarchists and pacifists all converged, bringing attention to how the WTO's policies were affecting democracy around the world. The upcoming presidential election has now reinvigorated the debate over global trade policy. Django, Sam, Lou and Jay are united in their desire to be heard and to make a difference. For these protesters, this is very personal and the stakes are higher than mere politics. A peaceful demonstration to stop the WTO talks quickly escalates into a full-scale riot and an eventual State of Emergency results. The streets are mayhem, the WTO is paralyzed. Caught in the crossfire are Seattle residents, including its beleaguered mayor, a riot cop on the streets and his pregnant wife. The choices they make will change their lives forever and prove, ultimately, that ordinary people can change the world.
Cast and Crew
Starring
Ray Liotta, Woody Harrelson, Rade Serbedzija, Joshua Jackson, Michelle Rodriguez, Charlize Theron, Connie Nielsen, Christopher Jacot, Tzi Ma, Martin Henderson, Channing Tatum, Ivana Milicevic, Jennifer Carpenter
Directed by Stuart Townsend
Produced by Stuart Townsend, Mary Aloe, Kirk Shaw, Mary L Aloe, Maxime Remillard
Written by Stuart Townsend
Searching for Showtimes ...
Please specify your location using the form below
Write a review for Battle in Seattle