Barfly (1987) Showtimes and Tickets
Read Movie Reviews about Barfly (1987) Write a Movie Review for Barfly (1987)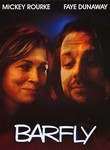 Dvd Release Date: 2002-09-03
Genre: Drama, Comedy
Rating: R
Duration: 1hr 40min
Synopsis...
Henry Chinaski, a poet and alcoholic, spends his life in Los Angeles bars. One day he meets and falls in love with Wanda, also an alcoholic. Together they meet Tully Sorenson, who publishes some of Henry's poems, bringing Henry a brief shot at fame and fortune. But, Henry and Wanda have only one real goal in life: drinking to numb the pain they feel outside the bars of Los Angeles.
Cast and Crew
Starring
Mickey Rourke, Pruitt Taylor Vince, Alice Krige, Charles Bukowski, Faye Dunaway, Joe Unger, Jack Nance, J C Quinn, Joe Rice
Directed by Barbet Schroeder
Produced by Francis Ford Coppola, Menahem Golan, Tom Luddy, Barbet Schroeder, Jack Baran, Yoram Globus, Fred Roos
Written by Charles Bukowski
Searching for Showtimes ...
Please specify your location using the form below
Write a review for Barfly (1987)