Bandaged Showtimes and Tickets
Read Movie Reviews about Bandaged Write a Movie Review for Bandaged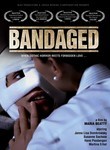 Release Date: Unknown
Genre: Suspense/Thriller,
Rating: NR
Duration: 1hr 31min
Synopsis...
A surgeon and his teenage daughter, Lucille, live in a mansion equipped with a full laboratory. A suicide attempt leaves Lucille's face burned and swathed in gauze. A lady nurse tends to the young woman's wounds. The attraction between the two women is palpable and ends up developing into a forbidden affair.
Searching for Showtimes ...
Please specify your location using the form below
Write a review for Bandaged