Awake (2007) Showtimes and Tickets
Read Movie Reviews about Awake (2007) Write a Movie Review for Awake (2007)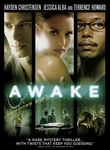 Synopsis...
During surgery, more than 60,000 people domestically each year experience "anesthetical awareness," a condition when anesthesia fails during surgery, leaving one completely conscious and feeling every incision, but paralyzed and incapable of doing anything about it. This is what happens to Clay.
Cast and Crew
Starring
Lena Olin, Christopher McDonald, Terrence Howard, Arliss Howard, Hayden Christensen, Jessica Alba, Fisher Stevens, Georgina Chapman, Denis O'Hare, Steven Hinkle, Sam Robards, Jennifer Pedersen, David Harbour, Ross Klavan, Poorna Jagannathan
Directed by Joby Harold
Produced by Fisher Stevens, John Penotti, Jason Kliot, Jason Kilot, Joana Vicente
Written by Joby Harold
Searching for Showtimes ...
Please specify your location using the form below
Write a review for Awake (2007)