Apne Showtimes and Tickets
Read Movie Reviews about Apne Write a Movie Review for Apne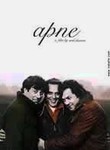 Release Date: 2007-06-29 (Limited)
Genre: Drama,
Rating: NR
Duration: 2hrs 50min
Synopsis...
Baldev Choudhary is an ex-boxer who tries to achieve the fame he was denied through his sons, Angad and Karan. But, when Karan, his younger son, is paralyzed as the result of an injury suffered in a match with the world heavyweight champion, Baldev sinks into a suicidal depression. This is when his older son, Angad, steps in to turn the game upside down and bring his father the happiness of a lifetime.
Cast and Crew
Starring
Bobby Deol, Sunny Deol, Victor Banerjee, Shilpa Shetty, Dharmendra, Kirron Kher, Aryan Vaid, Katrina Kaif, Divya Dutta, Javed Sheikh, Kurush Deboo
Directed by Anil Sharma
Produced by Dharmendra, Rahul Sughand
Searching for Showtimes ...
Please specify your location using the form below