Anthony Kaun Hai? Showtimes and Tickets
Read Movie Reviews about Anthony Kaun Hai? Write a Movie Review for Anthony Kaun Hai?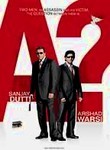 Release Date: Unknown
Genre: Action/Adventure, Comedy
Rating: NR
Duration: 1hr 48min
Synopsis...
"Anthony Kaun Hai?" is a comic thriller extensively shot in Thailand, across Krabi and Bangkok. Sanjay Dutt plays Master Madan, a sophisticated, ruthless, contract killer, while Arshad Warsi plays ace conman Champ, his target. But is Champ really the prey or is there something more to it?
Searching for Showtimes ...
Please specify your location using the form below
Write a review for Anthony Kaun Hai?