Anger Management Showtimes and Tickets
Read Movie Reviews about Anger Management Write a Movie Review for Anger Management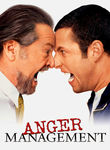 Dvd Release Date: 2003-09-16
Genre: Comedy,
Rating: PG-13
Duration: 1hr 41min
Synopsis...
After a misunderstanding aboard an airplane that escalates out of control, the mild-mannered Dave Buznik is ordered by Judge Daniels to attend anger management sessions run by Doctor Buddy Rydell, which are filled with highly eccentric and volatile men and women. Buddy's unorthodox approach to therapy is confrontational and abrasive and Dave is bewildered by it. Then, after yet another mishap, Judge Daniels orders Dave to step up his therapy or wind up in jail. So, Buddy moves in with Dave to help him battle his inner demons. Buddy himself has no inner demons since he acts out at every opportunity and that includes making lewd comments about Dave's girlfriend Linda and goading Dave into confronting every slight, past or present, head-on. But Buddy finally goes too far and Dave must decide whether to crawl back into his shell or stand up for himself. Could it be that Buddy's confounding and contradictory treatment is just what the doctor ordered?
Cast and Crew
Starring
Jack Nicholson, Adam Sandler, John C. Reilly, Woody Harrelson, John Turturro, Harry Dean Stanton, Heather Graham, Marisa Tomei, Krista Allen, Allen Covert, Lori Heuring, Cody Arens, Kevin Nealon, Aaron Fiore, January Jones, Gina Gallego, Jonathan Loughran, Nils Allen Stewart, Kurt Fuller, Stephen Dunham, Marisa Chandler, Chivonne Hill, Sean Welch, Sid Ganis, Jeff Morris, Clint Black, Isaac C. Singleton Jr.
Directed by Peter Segal
Produced by Adam Sandler, Tim Herlihy, Allen Covert, Barry Bernardi, Todd Garner, Derek Dauchy, Jack Giarraputo
Written by David Dorfman
Searching for Showtimes ...
Please specify your location using the form below
Write a review for Anger Management