Amateurs Showtimes and Tickets
Read Movie Reviews about Amateurs Write a Movie Review for Amateurs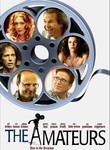 Release Date: 2007-12-07 (LA/Dallas)
Genre: Comedy,
Rating: R
Duration: 1hr 39min
Synopsis...
Down-and-out divorcee Andy Sargentee, with the help of his five motley friends, brainstorms a genius idea to make their dreams come true. They are going to rally their small town to produce an amateur adult film! They think they've found the road to fame and fortune, but their fantasy quickly turns into a hilarious misadventure as they encounter more than a few bumps in the road. Their good natured attempts lead to the creation of the most un-adult, adult film ever.
Cast and Crew
Starring
Jeff Bridges, Jeanne Tripplehorn, Ted Danson, Steven Weber, William Fichtner, Joe Pantoliano, Patrick Fugit, Tom Bower, Brad Garrett, Lauren Graham, John Hawkes, Glenne Headly, Isaiah Washington, Tim Blake Nelson, Judy Greer, Brad William Henke
Directed by Michael Traeger
Produced by Aaron Ryder
Written by Michael Traeger
Searching for Showtimes ...
Please specify your location using the form below
Write a review for Amateurs