Adventures of Baron Munchausen Showtimes and Tickets
Read Movie Reviews about Adventures of Baron Munchausen Write a Movie Review for Adventures of Baron Munchausen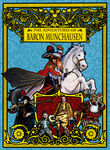 Dvd Release Date: 1998-05-26
Genre: Action/Adventure,
Rating: PG
Duration: 2hrs 06min
Synopsis...
The tale of the enchanting adventures of Baron von Munchausen on his journey to save a town from defeat. Being swallowed by a giant sea-monster, a trip to the moon, a dance with Venus and an escape from the Grim Reaper are only some of the improbable adventures.
Searching for Showtimes ...
Please specify your location using the form below
Write a review for Adventures of Baron Munchausen