Able Danger Showtimes and Tickets
Read Movie Reviews about Able Danger Write a Movie Review for Able Danger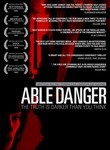 Release Date: 2008-09-11 (Limited)
Genre: Suspense/Thriller,
Rating: NR
Duration: 1hr 26min
Synopsis...
Thomas Samuels is the owner of a left-leaning radical café/bookstore and author of a hard-hitting 9/11 conspiracy expose. Thomas finds himself entangled with a mysterious eastern European beauty, Kasia, who is on the run from the architects of a global 9/11 cover-up. When Thomas is implicated in the murder of his friend and employee, he's forced to unravel Kasia's complex web of lies while attempting to fight his natural attraction to her. As it turns out, Kasia possesses the last remaining evidence necessary to convict the conspirators responsible for 9/11. Soon Thomas will be willing to die to expose the truth.
Searching for Showtimes ...
Please specify your location using the form below
Write a review for Able Danger