12 Rounds Showtimes and Tickets
Read Movie Reviews about 12 Rounds Write a Movie Review for 12 Rounds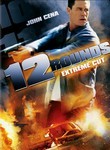 Synopsis...
When New Orleans Police detective Danny Baxter stops a brilliant thief from getting away with a multi-million-dollar heist, the thief's girlfriend is accidentally killed. After escaping from prison, the criminal mastermind enacts his revenge, taunting the cop with a series of near-impossible puzzles and tasks Â…12 roundsÂ…that Baxter must somehow complete to save the life of his own fiancee.
Cast and Crew
Starring
Aidan Gillen, John Cena, Brian J. White, Gonzalo Menendez, Ashley Scott, Louis Herthum, Taylor Cole, Lara Grice
Directed by Renny Harlin
Produced by Vince McMahon, Michael Lake, Mark R Gordon, Renny Harlin, Josh McLaughlin
Written by Daniel Kunka
Searching for Showtimes ...
Please specify your location using the form below
Write a review for 12 Rounds