Tyler Perry's The Family That Preys Movie Reviews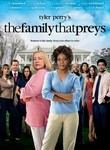 Release Date: Sep 12, 2008
Genre: Comedy
Rating: (PG-13)
User reviews on Tyler Perry's The Family That Preys
Tyler Perry did a WONDERFUL job in this movie. I was so impressed, personally this is his best yet! I look forward to seeing Madea Goes to Jail! Let\\\'s just hope Tyler leaves the afro at home next time!!

Tyler Perry actually did his thing in this movie.I was very pleased at the movie when I seen it.Had many moments of suspense and didnt know what was going to happen next.Very tasteful movie.

I totally loved this movie. It was very engaging and true to life! Definately not a cheesy movie...full of drama, suspense and mixed with tasteful humor! I loved it and in fact, I\'m going to start a library of Tyler Perry films. Movies worth saving and that relate to real life experiences. Tasteful entertainment!! !

I think this is the best movie tyler perry made.the other movies he made,i didint like.it feels like your in the movie.it funny,sad and real.i\'ll give this movie 5 stars.all the actors were so good in the movie.

I thoroughly enjoyed this movie - Tyler Perry has a winner! I enjoyed all the actors/actresse s however, Alfre Woodard and Kathy Bates were my favorites - they really made this movie. I will definitely add this movie to my CD archive.

Tyler Perry\\\'s Finest Work Yet! You must see this movie. For sistah\\\'s -- you will be shocked, and dare I say awed, a total role reversal and a compelling story line create a drama that is uncomfortably real.
Write a review for Tyler Perry's The Family That Preys