Tyler Perry's Madea Goes to Jail Movie Reviews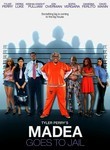 Release Date: Feb 20, 2009
Genre: Comedy
Rating: (PG-13)
User reviews on Tyler Perry's Madea Goes to Jail
El como comediante es excelente. Pero la pelicula deja varios cabos sueltos. Es un poco inconclusa y desorganizada. El diario de una mujer enojada, fue sencillamente excelnte!, pero esta deja muchas ideas sueltas. El mensaje no fue muy solido. El como actor me encanta, pero esperabamos mucho mas.

I don\\\'t know why anyone with a sense of humor wouldn\\\'t enjoy this movie. I thought it was hilarious. There was one small part in the middle where I got a little bored, but the great majority of the movie was entertaining. Loved it. Hope this review helps.

ok...Jack and Scout need to put the crack pipe down. This is a completely wonderful movie about humanity, love and friendship! I so loved it, as did my very adult friends. Who has names like Jack and Scout anyway? Go see the movie, because Madea rocks the jail-house!

Shameless lameness. Who said this guy funny? He no Eddie Murphy, that for sure. He no Chris Rock neither. Nope, he stink. And why he got to do what Jack saying and puttin his name on this s*** every time? Flav-o-flav yo! YO YO YO man!
Write a review for Tyler Perry's Madea Goes to Jail