Transformers Movie Reviews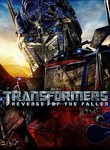 User reviews on Transformers
The movie was outstanding with a lot of action. I remember when my son played with transformer cars. His seven year old wants to see the movie again. He want me to buy it for his birthday when it comes out on DVD.

I actually saw this movie a couple weeks ago, and this was a very action packed film. I am one of those movie goers who enjoys a story line with any movie I watch, and even though I thought this movie didn't have a strong story line, It was the action and those HUGE robots that literally saved the movie. Its definitely a big screen kinda movie, but one of those movies as well that would be ok to wait for on DVD. Also, its not a movie for young children. If you are intending to bring your young son or daughter to see this one, wait till it comes out on DVD and save it for them when they are old enough to watch it. They might not understand it when they are 5, 6 or 7...Definitely a movie for action movie fan afficianados...

I remember those days as a child playing with the transformer toys (the ones my brother gave me). But this movie was so good I went twice in a 24 hour period, I HAD to see it again! The effects were great, and the storyline was smooth without a lot of nonsense. It was great!

honestly the best movie i've ever seen. i usually dont like action movies, mostly because i can't follow what is happening. but this movie was outstanding. five stars. shia labeouf is on a role. excellent!!

I thought this was a great movie. I personally have never seen anything to do with transformers till now, so I was happy that I was not lost about anything the movie explains everything pretty well and I did not have to keep asking my husband questions.(whic h he appreciated).

I think it is good but we sometimes can not understand what happened in action scenes,but totally I liked it and it is amazing,if you want enjoy, you can prefer transformers..

Transformers was a very solid summer movie. I wasn't expecting a dark or ultra serious movie, so I have no complaints regarding the tone of the movie. The acting was great, and the effects were simply awesome. The story could have been better, but I didn't mind it as much as it did to others. Overal l I think the movie is worth seeing, and it is easily the best movie I've seen all summer.

This film is either good or bad depending on what you want from from a film. If you want a film with a good story, depth and characters you care about (most of the things that make a good film) - then stay away from this. If, however, you think a good film is big robot fights - amazing action and loud sound, then you'll love the last 40 minutes. This is another film in the "Independence Day, Armageddon, Godzilla" camp. Poor script, poor acting, lots of "Go USA" moments, and a plot you could write on the back of a napkin. What it does have going for it - hey Prime and Megatron have a massive fight and destroy half a city :-) I was hoping for more, but it's a Michael Bay movie - he can't do any better than this! P.S.
Note to the script writers, Nasa didn't send the Beagle 2 probe to mars. That was the ESA.

I enjoyed this movie quite a lot, even though I never played with the toys when I was young. I went with my cousin to see it on July 4th, and he enjoyed it as well.My cousin is a die-hard Transformers geek, and he said he really liked it except for some minor details regarding the history of the series/cartoon. He particularly had a problem with Bumblebee being a prototype car instead of a VW Bug. I thought, on the other hand, that the scene where they buy the car that becomes Bumblebee was a "wink, wink" kind of thing from Micheal Bay. The humor in it was a nice addition to the explosions and fight scenes. Shia Leboeuf is really excellent in it- he just gets better with each film he is in. I think there is something to enjoy for both Transformers geeks and people just looking to see a visually exciting movie. Both men and women will enjoy this movie!

great movie if u you like action and suspense..
obv iosuly its science fictional but it is very entertaining..i ts definitly worth standing in line for and make sure u get good seats, or else u will not enjoy the movie.. ammmmmaaaaazzzi inng movie!
Write a review for Transformers