Sucker Punch Movie Reviews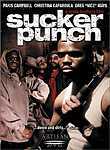 User reviews on Sucker Punch
the movie was awesome, you people are so blind. you have to pay attention to the movie. its has badass action and a good story behind it. the girls are good looking and the graphics are amazing. i would highly recommend this movie for people to watch. and what you talking about man, 300 was another badass movie. awesome blood and gore with combat action. just my kind of movie. the blood was the best part, u just need to learn your history buddy. the movie was great, my friends and i loved it, we couldnt leave to miss not one part, even if we had to go piss realy bad. best two hours of my life.

I will file this film under guilty pleasures and tell you not to go see it in the theaters because you will be very disappointed and angry. The film is created to be in your face, non-stop action and most of the time it does not make a lot of sense, but I did enjoy watching really cute girls kicking ass and being tough, even though they were dresses like hookers most of the time. Visually the film is awesome and if I was not subjected to awful dialogue and terrible storyline, I would have enjoyed this film. The music in the movie was another good thing and I truly enjoyed it, I wish there was no dialogue, only music and visuals.

I am not a fan of gory and bloody films and that was definitely one of them. It reminded me of "Saw" and I absolutely hated that film, I mean all of "Saw" films. There were too many moral dilemmas and too much gore and blood for my taste. I have to say that Katheryn Winnick did an amazing job in this film and I hope she gets better roles in the future. The cinematography was great as well because it was subtle and the coloring of the film was very nice. I do think that the film went into too much detail about characters' pasts and it became overly complicated. I also did not like the ending of the film. Overall, I do not recommend seeing it in the theaters.

First i will start by listing some characteristics of those who may favor a movie such as this one( if you fall in any of theses categories this is the movie for you ) :

1. guys with the attention span of a small animal or insect.
2. sex offenders / child molesters
3. feminists
4. morons and football jocks with no idea as to what quality . . . cinematography is what so ever

Now as for the rest of you out there who may be curious as to what the movie may entail, I implore you, take heed to my advise. Despite the fact that the acting was mediocre at best, the plots movement from one idea to the next was so poorly planned and absurd if you can stand to sit through the entire movie you will be so scatterbrained by the end you will need a bottle of vitamin water and at least 2 weeks with a board certified therapist. Im unsure as to who i need to blame for this awful work of film; the director or the writer??? The one thing I did however gather from this movie was the " Jesus Idea "...Self sacrifice for the greater good. So in conclusion the message conveyed was a good one, yet very typical, but was delivered in the worst possible way imaginable.

This movie was very confusing and hard to follow. I would not reccomend it to anyone. The movie made no sense at all and was a waste of money!

I enjoy the movie due to the acting and directing. Problem is the fantasy. I can do without fantasy. If this movie was like a Coen Brothers movie, i'd be lovin' it. It'd be rated R insted of PG-13. More cursing would get a 3 1/2 for me. Acting had me goin'. Favorite actress in the movie is Rocket (portrayed by Jean Malone.) Sucks she died, but she wasn't real 'cause she was thought in Baby Doll's mind. If you ask me Sucker Punch was the best movie that Zack Snyder has directed so far. I didn't like Watchman or 300. Zack Snyder need more learning in directing. I love girls with gun movies because they kick ass like Hit-Girl in Kick-Ass. Overall, I wished I saw a hell of lot more in that movie.

This was an awesome movie! Don't let the bad reviews fool you. You cannot fully appreciate this movie unless you have a vivid imagination to grasp the concept behind it. If you have a literal mind or are just a stick in the mud, you will not like this movie. My husband and I fully enjoyed it. I would have given it 3 1/2 stars, but I can only do whole stars.

This movie has a great trailer which accurately reflected what the movie was about.
There was clear deliniation between the various layers of reality within the film. The "real world" was dark and surreal. Evil occured against the unforgiving backdrop of a stormy night, and redemption, under the bright daylight of possibilities in a Mayberry locale. The "imagined world" of the underworld club and brothel the heroines used to escape the hard edges of the insane asylum, was tidy with muted colors and morality existed in shades of gray.
But there existed also a third level of the imagination. The realms which Baby-Doll could only enter when she danced. Places of empowerment where hope thrived, powerful forces could be vanguished, and cute little girls preyed upon nazi-zombies, robots, orcs, and dragons.
The costuming, so titilating in the marketing stills and posters, were the symbols of victimization marking them as lambs. So to project by contrast, an ability of will to overturn one's fortunes, and become lionesses in sheep's clothing.
I was concerned by the fact it debuted in our local "art house" Zinema, rather than at one of the major chain cinemas. It could have been visually strong, but with a weak plot, OR with an overpowering drag-on story. I was thrilled when my misgivings proved groundless. This had a thrilling and engaging storyline that was cinematically a feast of bold imagery!
Write a review for Sucker Punch