Star Trek Movie Reviews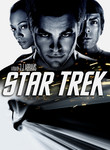 User reviews on Star Trek
Certainly worth seeing for the CGI alone. Do yourself a favor and locate a theater with a digital projector – the fast action and quite elaborate imagery certainly is deserving of the best. Character development of these long established roles was well done in most cases, however it's not an "over the top" film – only time will tell if it is good enough to re-energize the "Star Trek" brand.

Incredible - want to see it again! Can't wait to buy it. They couldn't have done a better job casting - perfect. Neat twist to story - so looking forward to more star trek movies - hope they keep same cast. Love that they had similar mannerisms and characteristic remarks - esp bones - i was laughing too hard almost. Good Job!

The perfect summer thrill ride. Excellent pace and run time. The dialog is simple, crisp and to the point with humorous references to the characters we already know about without being silly or cutesy. The CGI is dynamite and directing very able
as some very interesting concepts where introduced. Its hard to imagine better casting for the characters, although Kirk in this movie does not over emote as Shatner did. The story while not great is still good enough to not get in the way of what the true aim was in this picture and that was to hit the reset button on the Star Trek franchise and for that it hits the bullseye.
My only complaints are minor: The original score was boring, the camera jitters a bit- so sit back from the screen.The giant snow crab was over the top. Enjoy Star Trek for what it is.

Just saw the 8:30 running of this at the Cinemark Palace at the Plaza (which this website doesn't list the time from; lucky me as I was otherwise going at 10!). I've got one word:

Spectacular.

Maybe "Epic" would be a better choice. Star Trek has new life like never before, with a much "grander" feel to it than ever.
Write a review for Star Trek