Star Trek Movie Reviews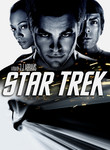 User reviews on Star Trek
I saw this movie at Windchimes cinema 8. I like it a lot. I was more familiar with Star Trek tv shows theni was with the movies before star trek (2009). I loved the star trek tv shows. I used to watch it a lot. The only star trek movie i saw before this one was Star Trek: Insurrection. It was good. but this Star Trek movie is just completely great. Spock was great and he looked just like a young Leonard Nimoy. Zachary Quinto did a great job. It was cool that Leonard Nimoy was in the movie. Too bad William Shatner was not in the movie. I was hoping he was going to make a cameo or something. Leonard role was a little bigger than a cameo so why not shatner. Maybe he'll be in one of the sequels. What a great cast - Zachary Quinto (Spock), Zoe Saldana (Nyota Uhura) is hot, Karl Urban (Bones), Simon Pegg (Montgomery Scott) was very funny, Winona Ryder was great as Amanda Grayson (human mother of spock) and Anton Yelchin (great russian accent, wait he is russian). Im not an Eric Bana fan, but he was great as Nero. I didn't even know it was Eric until i looked at the credits. I wasn't too excited about Chris Pine being James T. Kirk, but i got comfortable with him. Chris is cool but he doesn't have that intelligent look about him like shatner. I think he's acting abilites are great. My favorite characters are Spock, Spock Prime, James T. kirk, Nyota Uhura, Bones and Nero. Montgomery Scott, Lt. Hikaru Sulu and Pavel Chekov were less interesting to me. Great movie i love it. 5 stars.

Wow... I am not a Trekker/ie, but am somewhat familiar with the original series. I went to the movie thinking, eh, this could be fun, and left thinking, wow, that was really good! After some time to let it percolate, I went back and saw it again...and became addicted! Every time I see this movie (yes, I have seen it multiple times, not telling how many!) I discover new things to love about it! The casting was brilliant, the acting is superb, and the storyline compelling, engrossing, and, yes, fascinating! I would easily rank this as one of the best movies of the year. I'm only surprised it didn't make as much as Transformers. I've seen them both, and, believe me, there is much more to love about Star Trek. Yeah, I know Megan Fox isn't in it, but Zoe Saldana is...and not only is she beautiful, but...she can ACT! Bottom line, I can't WAIT for the next one! Hurry up, JJ & Co! And thanks to everyone involved in this movie for making it so much fun!

Not a Trekkie, but as a casual fan of the many Star Trek series and movies, I was only mildly enthusiastic about this movie before seeing it. It had been well-reviewed, but I just wasn't that excited about seeing it becuase the cast had nobody I wanted to see.

After several months, I saw it at The Picture Show and it was well worth it. The casting was fun, and the plot centered on the origin-story of the Enterprise that I had never seen before. Much of the movie was rewarding and exciting, but the special effects were a bit bombastic.

The movie worked best as a character study between Kirk and Spock. It was a good popcorn movie that delivered more than what I expected, and I'm glad to have seen it on the big screen.

It should satisfy fans of Sci-Fi in general and Star Trek in particular, but it won't make any new fans of Star Trak that didn't already exist. It worked as an effective re-boot of the franchise, and I'd look forward to seeing this cast again in the next installment.

I liked the movie, for the most part. For someone who has never watched the original series, It would have appealed to their "need it now" Twitter mindset. However, having grown up with William Shatner as James Tiberius Kirk, and the constants in that multiverse, as well as the movies and additional iterations, I find this movie to be poorly integrated, to the point of being absurd.

Sure the special effects were great, but the story line doesn't jive with reality. No cadet, especially one under the spectre of dishonorable expulsion from an academy would ever be in charge of a starship. And having all the Enterprise crew meet prior to getting on the ship is just as ludicrous; coincidences like that don't happen in any military organization!

It was a movie that had a lot more promise, if done correctly, rather than appealing to the mindset of the slacker generation.

I rather enjoyed Star Trek. I was never a huge fan of the original series, but I must say, this movie is great. It is more teen friendly than kid friendly. The storyline is pretty easy to understand. Everything from action, to comedy, to romance (including brief sex, but not much at all.) This movie will take you on a craz ride in the depths of outer space.

I was thrilled with this movie! Why? Cause it goes back before they were even in the acadamy and why they got in! Bones and his name why he got it fits! A movie for Trekkie fans like me! Will buy when it comes out on DVD! A must see!

Anything to continue the franchaise is a good thing. While it holds enough of the original story for the trekkers / trekkies, I liked the plot twist that made this version possible, and better yet unassailable by those who may take issue with it. I like J.J. Abram's style and can't wait for the next Trek.

As a "casual fan" of Star Trek. I think I would have to agree with a 4 star rate.

I don't think you need me to explain what this movie is. I think you already know when you read the title, "Star Trek".

I would guess your question would be more with, "How did they do with it?"

While I miss cute"?" loveable aliens and robarts. I like this movie because they didn't seem to be expecting special effects alone to carry it.

The movie to me, seem to remain true to Star Trek. As they were giving their version on how this crew came to gether.

Though some of it seemed hard for me to swallow. Such as the entire crew seemed to be starting out as teeny boppers?

But I guess they made a plausable reason for this. Besides, looking back. They must have been extra young when they first got together. For the seasoned crew itself was still actually quite young.

I thought where they really excelled, and help make this an interesting movie. Was in finding actors that really looked like a young version of the crew.

If you are some one who could enjoy the T.V version of Star Trek. Go see this movie. I think you will find it entertaining. I know I did. In fact, when it gets to the dollar seats. Now I know what movie theem is about. I think I will go see it again. Just to pay more attention to what they were actually put into each charactor.

enjoy, John

Wonderful- felt that 10 feet tall feeling for hours after leaving the Theatre. Just Plain fun- Beautiful sound, visuals,engaging story- New Spock wasn't sexy,Nemoy is: Go figure? of course see it in big cold movie theatre --Cinerama! Did they put a sublimable ol' Captain Kirk in there, or was it just his ghost?

This movie is for children. Adults will not find this movie very compelling,but at the end people clapped.I thought the characters where shallow.The special effects where just ok.I am 65 so that may tell you something.I was disapointed in the movie.When is hollywood going to make a movie for adults?
Write a review for Star Trek