Space Chimps Movie Reviews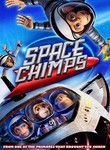 User reviews on Space Chimps
Ok, late review. I actually seen this back in July, but recently went with my niece. Well, the first time around the movie had its comic moments. It is obviously very predictable, but it is a great movie for children under 8. My niece, 10, though it was funny at times, but she wasn't that impressed. There are better cartoon movies out there. It should be on DVD soon and I would say that if you have children under 8, then you should purchase this movie. Other wise, wait for a TV broadcast. 2 Stars.

I think it was a really great childrens movie, my little brother and nephew loved it, there were many colorful, cute characters, and it had us all laughing out loud.

This movie is certainly no "Shrek", even though it does steal some jokes from it. With a loose storyline and stereotypes on many different people; this movie is only good for acoumpany kids and getting out of the heat of summer.

Kirk Demicco's brilliance is absolutely stunning in this film. It had me on the edge of my seat and I totally and completely forgot about my popcorn i bought. Two...no THREE thumbs up.
Write a review for Space Chimps