Salt Movie Reviews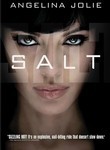 User reviews on Salt
Love this movie. Love Angelina Jolie in these kinda movies! She does action better than most men actors!! You have to see it!! Lara Croft pales in comparison!!! Very suspenseful and very good storyline. People of all aged can see this movie! It's definately worth the nine dollars ( adult fare ). I missed a little of the movie because me and my date arrived late but it didn't affect the experience. It really draws you in.

The key to good improvisation is commitment. If you say you've got an elephant standing on your head and you completely commit to it, I'll believe you. Salt is like good improv. It's preposterous and over the top, but the commitment of its star, Angelina Jolie, made it a fun summer movie with a lot of great action.
Jolie stars as Evelyn Salt. She is a CIA agent who, while interrogating a Russian defector, is told she is a KGB spy working undercover. Salt bolts for the exit, and with her co-workers chasing after her, creates mayhem and destruction, leaving bloodied bodies and crashed cars in her wake. There's some flashbacks to what may have been her childhood and a husband who deals with spiders and Salt taking off her panties, but the real fun here is in the exciting chases and fights.
Most of this is incredibly outlandish and unbelievable. It would probably dissolve into silliness if not for Jolie. She's a great actress, and you truly believe everything the character is going through because of her. She also does her own stunts. While it may be completely implausible, Salt is still a lot of fun.