RocknRolla Movie Reviews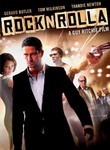 User reviews on RocknRolla
Everybody wants to be a Gangster. Guy Ritchie creates another Boss versus Boss movie. This was entertaining and fun at times; however there was a little bit more to be desired. The acting was decent and the story-line worked, but just not enough surprising twists involved. Thandie Newton was great at playing the slick and sexy female everyone wants. Tom Wilkinson hid behind the sunglasses a little too much. They did leave this open for a sequel, and yes, I will go see that one too. Not a movie to rush and go see, but I definitely recommend the DVD rental. 3 Stars.

This british ganster film was just fun to watch. Although I don't think that it was as good as Lock, Stock and two smoking barrels, it was still really fun. I also just love the accents and the slang so they could be talking about nothing (and often I do believe that is the case) and I would still be entertained.
This follows the same outline of many of Guy Richie's movies, with what seems to be a large unrelated cast of characters at the start whose lives are all intertwined or destined to become that way. The story line was a little convoluted but if you paid attention then it wasn't that difficult to follow. If you liked Snatch and Lock, Stock you will probably like this movie as well.
Write a review for RocknRolla