Pride and Glory Movie Reviews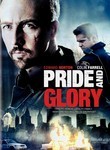 Release Date: Oct 24, 2008
Rating: (R)
User reviews on Pride and Glory
Gavin O'Connor's Pride and Glory is a movie about police corruption and the one good cop who has to try and fight it while dealing with his loyalties for the police department. And if it sounds like it has been done before that would be because it has. Although it is pretty entertaining it doesn't bring anything new to the table. There is a lot of action and it is a very violent movie, so if you like those sorts of things that this is for you.
The cast is very impressive Edward Norton does a great job with what he is given; proving once again that if he is in a movie it is at least worth watching just for him. Colin Farrell plays his corrupt brother in-law, who the movie (I think) tries to get you to sympathize with a little bit but you just can't. What he was doing just didn't seem worth the money he was getting, so I couldn't really buy it. And I also think that a whole corrupt police department is a little far fetched at this point. I also thing that Jon Voight did a good job as the conflicted father.
Maybe I was expecting more with this cast but the movie just wasn't that great. It kept up a pretty fast pace so that was good and what it lacked in story line it made up for in violence. It you really like cop movies then by all means go see this movie.

Police corruption at it's best!! This movie showed how some cops can take the law into their own hands and how a family backs up one another. The performances by all of the actors were great. The blue cinematic color of the film really added depth to the story. There was a quick disclaimer at the end which would lead to believe that the incidents portrayed were taken from real life scenarios. This as a very realistic movie. A must see.
Write a review for Pride and Glory