Pirates Who Don't Do Anything: A VeggieTales Movie Movie Reviews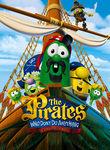 User reviews on Pirates Who Don't Do Anything: A VeggieTales Movie
Haha, cheese curls kindda gave me bad dreams too, kidding. Yep a bit creapy scene, oooh, I am a cheese curl, i am gonna come get you :) But I thought the movie was too TOO cute!!! My 8 y. old Loved it!
The Best one of all Veggetales by far!

My children age 9,6 and 4 really liked. My wife and I thought it was cute, better than Jonah (although we liked that one as well) Creative Allegory, innocent and leaves us with a profound but not preachy message. The animation, sound and music were well done. There were a few scenes my 4 year old thought were a little scary, cheese curls can be dangerous! Highly recommend as a safe nice night out with the kids.
Write a review for Pirates Who Don't Do Anything: A VeggieTales Movie