Nothing But the Truth Movie Reviews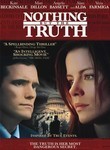 Release Date: Dec 17, 2008
Genre: Drama
Rating: (R)
User reviews on Nothing But the Truth
Nothing But the Truth is the story of embattled reporter Kate Beckinsale who refuses to give up her source when she outs an undercover CIA operative and gets sent to jail for her troubles. Though this film could have easily fallen into the heavy handed side, director Rod Lurie kept it on an even keel. Beckinsale is believable and you sympathise with her but you also see that while fighting for one belief she is letting the rest of her life fall to the wayside and that she is definitely not a martyr. The story is based on the Valerie Plame dibacle of a few years ago but it is not an exact match and is a work of fiction.
The story was really interesting and the characters were very compelling. I didn't like David Schwimmer's Ray Armstrong was a little too hard hearted, it was like he didn't care for his wife at all. Matt Dillon just gets better and better with age same thing with Angela Bassett. For a smaller film the cast is really impressive and truly pulls off a good script and story line.
This was just a good all around film for anyone who likes dramas or courtroom movies. The movie gets you talking and thinking about politics and people's dwindling rights.
Write a review for Nothing But the Truth