Nim's Island Movie Reviews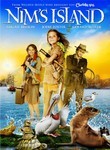 User reviews on Nim's Island
Cute movie! I dont personally WANT to see it again but I would. Younger kids also like it.It has a ton of pretty scenes, But i'd recommend seeing speed racer,kung fu panda or something instead.

I saw this with my step-children (3 boys 6,8,13yrs old) And they seemed restless the whole time. I hated it and so did my husband. We normally like watching the kids movies too; but this was so over acted, totally unreal, and corny. Many adults left the movie mid-stream. It was a total waist of time and money! Uurgh!

what an awesome movie, I loved it finally a nice relaxing movie you can take any age to without gore and a bad message. loved the non violent defenses! loved the setting, tree house especially the person who didnt like the decor , in the other comments GET A LIFE they were on a freakin ISLAND hello???? theres no IKEA there!
watch the movie again this time with your eyes and ears open and your MOUTH SHUT!

wonder ful movie!!!!! great actors i love jodie foster shes been through enough about time to give her a nice SAFE role.

Definitely a great kids\' movie. Very empowering for young girls to see that they have the strength and reserve within themselves to overcome obstacles. Adults need to remember to view this movie through the eyes of a child - for whom it was written. Jodie Foster was a bit miscast, but she did okay. As far as Gerard Butler goes - can the man do anything wrong? I think not. He proved his mettle in playing both the roles of Nim\'s father Jack as well as the subconscious of Alexandra Rover in the form of Indiana Jones type hero, Alex Rover. Butler shows us once again what a versatile actor he truly is. And he\'s not bad to look at, either. This film has something for everyone, especially for kids and their moms. Although, it can also be seen as a father/daughter movie since the movie also shows the heartwarming relationship and love between Nim and Jack. Highly, highly recommended.

I thought it was really cute. I didn\'t get bored taking my dd and my niece and nephew. we all had lots of fun and my dd got really into the movie. it was well played and the location was beautiful. it was just silly and fun not meant to betaken seriously. just a fun kid movie.

I would give this one 2 stars just because it was a great thought for a script but it was really disappointing how they screwed it up completely. It gets worse with every episode :( I wasn\'t too crazy about their jungle house so tastfully decorated by a YMCA designer... The Coach pillows just killed it for me. Jodie Foster was a bit overacting with her mental issues, it became annoying, and you think she is too old and not attractive enough for Nim\'s Hot daddy. Where was I?! ;)

my friends saw it and they said it was one of the worst kids movies since aguamarine.I take there word and i wont be seeing it any time soon.
Write a review for Nim's Island