National Treasure: Book of Secrets Movie Reviews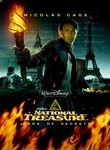 User reviews on National Treasure: Book of Secrets
We enjoyed it VERY much! My son LOVED it! It\'s an American version of Indiana Jones. It\'s a great easy movie to watch that makes you smile and hold on to your seat at the same time. Sorry for those who dodn\'t like it, not enough blood and blowing up for you silly boys... :(
SEE THIS MOVIE! It will make you smile!

This is a complete copy of the first movie, it frankly amazed me the story is a good plot but the actors are getting old and the story was boring, it was enjoyable in some scenes but not as amazing as it was cracked up to be.

While it definitely lacked the pa**ion, time and depth that the previous film took in creating and dechipering clues, it's still a whole of fun and should be seen on the big screen to fully appreciate. I'm not going to give a thing away, but it has some very unique and big effects. The only thing that really distracted me was Cage's hairpiece. His entire hairline was very odd and his piece was dyed very dark. Plus, I couldn't believe how much he's aged. He looks like a man in his late-50's, Those close-ups were not kind to him at all. All in all, I loved this film as much as the first, and look forward to another installment. Parts of the original film score were used at poor times that didn't fit well with the film, but that's really my only minor complaint. Wi thout giving anything away, there's no need to sit through the end credits in anticipation of "page 47" being revealed. It's a cliffhanger.

Loved it! Adventurous, yet good family movie. I was happy to see all the same characters return. I think theres another one coming...

If you are a parent who is looking for a good movie to take your kids and maybe peak their interest about history without the "action" (a.k.a. s**,unnecessary violence, and profanity), this is it.

I agree with many of the others. This movie was very easy to predict. Too easy. I believe the first movie was better because the clues were harder to uncover. The way the characters are able to figure them out so easy makes the movie a wee bit cheesy. It is, however, a good movie if you're not expecting anything.

I am happy to say that this National Treasure is even better than the first! It's not often that sequels are better, but they pulled it off with this one. I'm also glad they brought back all of the same characters, but added more into it! Great movie-- can't wait for the third!

Both National Treasure movies about learning history. Too many shallow people choose stupidity. "What use is history in the real world?" Well, we hopefully learn not to repeat the mistakes of the past. Imagine how people vote--with an ignorance of history.

This movie was as shallow and predictable as the first movie. Somehow I was under the impression that it had improved. How wrong I was, and what a waste of time. It seemed like an Indiana Jones wannabe, but it lacks any depth in the characters as well as a good script. It did have my attention, but I couldn't take it very seriously.
Write a review for National Treasure: Book of Secrets