My Best Friend's Girl Movie Reviews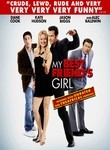 Release Date: Sep 19, 2008
Genre: Drama
Rating: (R)
User reviews on My Best Friend's Girl
This was the first time I\'ve ever seen Dane Cook and i have to say it was the funnest move I\'ve ever seen in my life. It really does depend on your personalty whether you should watch this move or not!!!=)

I hate this movie I feel bad for kate husdan. Dane Cook was most of the cause for this movie Justin Biggs was ok I saw that ending coming but I did laugh a bit I want to give this moive more stars but I can\'t

I loveee dane cook. I dont care what anyone else says. its gonna be awesome cause hes in it. Hes madd funny and even if the movie is bad, i will buy it when it comes out;\r\n=]]

How many times are we going to see the typical love story comedy? I guess until we keep going to see them!! This is pretty much a more vulgar version of \"Hitch.\" Actually, I\'m surprised they didn\'t call it, \"Tank\" after Dane Cook\'s character\'s name. But then, that probably is not a smart name for a movie. Headlines: \"Tank\" tanked at the box office!! All kidding aside, this does have a few laughs and I\'m a sucker for seeing Kate Hudson\'s smile. However, I thought the ending was not just predictable but pretty pointless. They could have made a more intriguing ending. I guess Dane Cook fans will like this one but, I recommend waiting for the DVD or even cable.
Write a review for My Best Friend's Girl