Land of the Lost Movie Reviews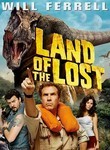 User reviews on Land of the Lost
Will Ferrell is Dr. Rick Marshall, a quantum paleontologist who develops a time warp theory that leads to his building a machine that opens a door to an alternate time universe. OK I know this is supposed to be funny but its just not. I think the writers on this mess must be some 11 year old boys that they found and forced to watch dvds of the 70s Saturday morning TV series of the same name. It was as if they couldn't decide if they wanted to make an R rated or G rated film so they let the kids just make a total mess of it. Ferrell was unable to pull off the hero character even from the comedic standpoint. I could go on for hours but instead just let me say this movie is lost totaly lost. Do not subject your children to this and as an adult I wanted to ask for my money back.

Silly movie based on a really bad TV show. Will Farell is funny but a lot of jokes miss and they keep hitting you over the head with them. Not much explained in the film. Poor editing and pacing. Anna Friel is adorable but vacuous and the director loved nonstop buttocks shots and breasts squeeze gags of her. Wait for it on cable

If you saw the movie preview. Then you saw the movie. It seemed to me, they show all the main parts of this movie in the preview. Just expanded on them.

For me, this was alright. Because I am one who didn't see where the gross was needed in a funny movie. Since the previews had let me know what was comming up. I could close my eyes, and skip looking at the gross.

If you are thinking of taking children with you to this movie. I would recomend you take the PG13 seriously. Besides the gross, there are some pretty sexual sites in this movie. Including a nipple flash.

If you are like me. And think along the lines of anything different, can be good. Then you may be able sit throught this movie alright. All though you may want to consider waiting for it to reach the dollar seats?

Over all, I think it deserves a 3 star rate. It has some funny moments in it.
Write a review for Land of the Lost