Jonah Hex Movie Reviews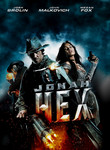 User reviews on Jonah Hex
I thought this was a great movie a little bit of a slow start but got good pretty quick. I enjoyed it.

We're starting to scrape the bottom of the graphic novel barrel, if Jonah Hex is any indication. Of course, it doesn't help when it looks like your movie was stitched together by a blind man with no hands. It's an absolute mess, and even at only 80 minutes long, it's still way too long.
Josh Brolin (really, the only redeeming thing about this movie) plays the lead character, a Civil War vet mutilated and forced to watch his family burn by an evil Confederate colonel (John Malkovich). Hex travels the West, talking to dead people, and eventually has to stop the colonel from blowing up the US Capitol. Yeah, it's just as dumb as it sounds. Along the way, Megan Fox shows up to wear a corset.
The film went through a bunch of problems during production (directors quitting, deadlines that had to be met) and it shows. This film is a mish-mash of styles that have no hope ofreport this review for TOS violationing together. There are strange animated sections, repeated sequences, and inept editing and camera work. It would be fun if it was a low budget film, but this is a big budget studio movie, which just makes me sad. Couldn't this money have been used for something better?
Write a review for Jonah Hex