Indiana Jones and the Kingdom of the Crystal Skull Movie Reviews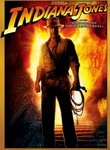 User reviews on Indiana Jones and the Kingdom of the Crystal Skull
when i grew up indiana jones was my hero just like everyone elses and i still watch young indiana jones . I can honestly say this movie was good not great it did tie up lose ends in the story but it cannot compare to the orignals it seems like they tryed to hard and it could of been better. It is good for kids so dont be afraid of that. i would give it a B or 2 stars

INDY IS BACK!!!

It was good to see Indy back and it tried up lose ends of the Indy story. The story was a lttle weak, but the action sences were excellent. It had some of the humor of the old school Indy movies, but some of the action sences eventhough good, were a little far fetched.
I would rank this Indy movie third of the four movie saga. With The Last Cusade being the best, followed by Raiders, than Tis one and lastly The Temple of Doom.
This movie is no Iron Man, but it worth seeing.

*Content includes spoilers*
Yes, I know. This film has the unfortunate position of living up to very high expectations.
T hat being said, It is difficult if not impossible to watch this latest (and perhaps last) Indy' installment without comparing it to its erstwhile releases.
Even with Spielberg and Lucasfilm behind this tour-de-force, the film is flat, charmless, unfunny, and implausible. Its overall look is washed out with substandard art direction, CGI, and cinematography. The main premise of this film is that Indy must return the alien crystal skull to its original skeleton so that it can merge, to form a collective with the other aliens who have been waiting to go home.
That's pretty much it.
There were times when the digital matting and continuity was apparent which is inexcusable by today's standard and especially by this A-list team of technicians.
Wh ile the cast is strong,there is a lack of any type of character development or cohesive story line. Very little is explained about the characters or the Crystal Skull which led me not to care what happened to anyone. This film has basically one pace- action and none of these scenes had an ounce of plausibility to them. e.g. Indy and has crew are completely impervious to machines gun bullets even at close range, refrigerators are you best line of defense in a nuclear explosion, all young men (Indy Jr. played by Shia)have innate knowledge of how to swing tree-to-tree like Tarzan from vines in a forest they have never been in before as well as straddle an open jeep traveling at high speed while performing a sword fight, open-top cars can carry 5 people down huge waterfall to safety, ants envelop people and plunge them into there anthill.
Silly, stupid stuff that did not entertain me.The film is self-aware and poses. Harrison still has the goods but they got wasted on this one.
Wait for the DVD.
Write a review for Indiana Jones and the Kingdom of the Crystal Skull