Indiana Jones and the Kingdom of the Crystal Skull Movie Reviews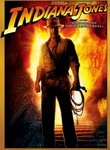 User reviews on Indiana Jones and the Kingdom of the Crystal Skull
I know it's chic to blast movies these days but I liked it. Yes, it had corny parts. Yes, it was scientifically challenged. Yes, the action and stunts were improbable to say the least. So what? All of the Indy movies were like that. All James bond movies are like that. It's fun. I think it was a little flatter in terms of twists but it was still good. I can swallow the adventure regardless of aliens and crazy Soviet agents but there were a couple points they should have left out because they never tied them together. In the beginning, Indy becomes a victim of McCarthy blacklisting, costing him his job. It made no real difference in the plot. In the end he get his job back and is made Assistant Dean of the school. Huh? Nowhere in the movie did he do anything that could have fixed that mess. No one in the FBI would have known about his adventure nor its resolution. Not a huge deal overall, but it did raise questions when the movie was supposed to end with all the loose ends tied.

worst ending for an idiana jones movie...tried wya to hard wasnt worth my time and money..i mean comon now a ufo comes out of the ground not indy like.

pretty good, liked the story line, the only problem was the fight scenes...WWE looks more realistic that this movie in that aspect, as i said before Pretty Good

Wow! I mean wow! I can't believe how horrible this movie was! If you love Indy movies like I do, stay away from this one. It's sad this is a final installment and no room for redemption. The effects are crazy bad, the audio is awful. The scene transitions are on pace with the old drive in burn through splices. And when you get to the story lines, there are just so many things wrong. I sincerely believe Spielberg and Lucas had very little to do with this film. They can't have possibly been responsible for this disaster!

this movie was okay. it wasnt as good as the other indiana jones film. one thing is harrison ford did his own stunts. for his age, its pretty risky but it looks like he broke every bone in his body doing those stunts. the big perfromance was shia labueof. he had some great scenes. he was the best part of the movie. i loved the whole harrison,shia, and karen teamwork thing but to me, this movie wasnt as big or as good as everyone made it seem.

Ok, lets start like this: The movie was decent.
I was a little bit disappointed about the animation because they looked cheap and everything seemed like it was done in a studio.
The storie is bad compared to the other Idiana Jones movies because it is about Aliens and doesn't make sense at all, maybe little.
Some funny parts made the movie a little better.
And last but not least: The movie never ends! It is soo long. At some parts you think it's the end, and it goes on for another half hour...
All in 1 I'll give this movie only 2 Stars...

This film was terrible. H. Ford is too old to be leaping off of tall buildings, swinging through the air, and jumping from one moving vehicle to another. He looks like someones grandpa, for cryin' out loud. Kate Blanchett would have looked better in leather with a synched waist (and a little more skin, please), while John Hurt apparently chose to embarass himself by playing a ridiculous character that was well outside of (and far beneath) his work in "The Elephant Man" and "Midnight Express".
This film has the same far-fetched hoakus-pokus as the last three films. Save yourself the time and avoid this film altogether, or buy tickets for someone you don't like and give it to them as a gift.

Excellent presentation of the ongoing adventures of our favorite college professor, Indiana Jones. I liked the way Spielberg paid tribute to the original characters from "Raiders..." and also the authentic-looki ng sets of the era. Of course the usual implausible storylines but that's we like about this series. Great popcorn fare!!

In a nutshell: total absurdity. The first hour is a bunch moronic, slapstick nonsense and doesn't even feel like an Indy flick. The mood, angles, music and acting were far below par, and I swear the majority of the time someone else's voice was dubbed over Ford's acting, because it didn't sound like him at all - almost sounds French of someone trying to be suave and debonair. And the multiple foolish reaction shots of gophers? Come on! This isn't a cheap Caddyshack film. Total stupidity and lamess. I think they were going for the kind of humor like in Indy 3, where the German fighter skids along the road past Indy Jr. and Sr., and the pilot just looks at them as he heads for the tunnel of death. That was funny. Unfortunately, nothing here was funny or even slightly amusing. It was just stupud and lame. As for Indy, the camera was not kind to him, and he looked old, frail, weak and completely out of sorts. Jumping ahead to the last hour... Things finally start to feel more like an Indy flick. There are puzzles for us to figure out, a bit of mystery and suspense, some boobytraps and maze-like situations, and character interaction improves and feels more natural and less contrived. We are now on an adventure rather than simply being fed a bunch of gags and dialogue that fail miserably. Great, interesting, original situations that are exciting and feel very Indiana Jones-ish. So, the last hour is the only thing worth seeing, IMO. The first hour is just a train wreck that has you shifting in your seat and checking your watch and tongue-probing the cracks of your teeth for pieces of popcorn. LaBeouf does a fine job with what he's given, and the ending such that it's implied he may be the next Indiana Jones. However, he doesn' strike me as being a strong enough actor to pull it off. Then, again, I've never seen him in a lead role, so perhaps he might be able to own the part. Who's to say. Mr. Speilberg and Mr. Lucas, you've both apparently gotten too old to tell a great tale of adventure. Pass the torch, please!!!!
Write a review for Indiana Jones and the Kingdom of the Crystal Skull