I Know Who Killed Me Movie Reviews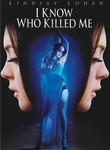 User reviews on I Know Who Killed Me
This is the best movie that I've ever seen. It's great to see children actors grow up to be such fine and mature actors. I am so impressed with how Lindsay, only 20 years of age (when filming)could pull off such a risky role. I hope she gets an OSCAR nomination for this role.

This was the worst movie I have ever seen. If you are wondering why Lindsey Lohan has turned 'bad girl'- check out her movie! She wasn't even 21 when she made this and she is having sex, pole dancing, drugging and drinking in this flick. I am embarrased for her.
She has such a talent as an actress and she is throwing it away with movies such as this.
All we can do is pray for this young lady.
Write a review for I Know Who Killed Me