I Am Legend Movie Reviews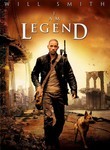 User reviews on I Am Legend
Great movie. It's one of the best that I've seen in a long time. I don't think it would've been as good with any other actor though. Will Smith does a great job portraying Robert Neville in all of his brilliance. The great acting mixed with wonderful cinematology leaves me to say that this is the best rendition of Richard Matheson's novel to date.

I enjoyed this movie. It was actually better than I expected it to be. It's important to note, whether we like the plot direction or not, that not all of the monsters were unable to think, hence the trap set for Smith and the monster-dogs. That being said, why the heck didn't the dogs turn around and attack the human-monster? hmmm. Anyway, good flick but the viewer must be willing to suspend his or her disbelief for an hour and a half.
p.s. David, the eggs were powdered.

This movie was not deserving of all the hype. The guy that said it was like Omega Man, it was only like it in the initial storyline. The movie bounced back and forth the whole time. Even with a good actor like Will Smith it could not be saved. The ending was totally ridiculous. Good only for a rental at home.

Forget about the viewer below. Obviously he/she was not paying attention to the movie bc the eggs are powdered as mentioned in the dialogue.

I loved the movie and it reminded me of a classic called OMEGA man. Will Smith did a great job, and I recommend any guy willing to drag his date to the movie go see it.

I will never give a 5 star to this movie. It is REGULAR, not good at all. Too many mistakes,how come the monsters ( sick humans-humanoid s) think as humans, the boss of the freaks, sent the monster dogs after the hero?, the monster boss was intelligent?, not a monster?, how come Alice Braga could cook scrambled eggs when she was preparing breakfast? they had fresh eggs?¿ please give me a break, this mistakes made the film stupid, the script was not intelligent at all. Really I was dissapointed!
Sorry for your loss Will this was bad!, other films were better, I Robot was much better than this.

I really liked this movie...it was a science fiction movie with a soul. Will Smith pulls you in with GREAT acting and at the same time, lets you know he doesn't take himself seriously, a move that endears you to his character....we even get the family dog tugging at our heart strings....The suspense never lets you relax and that makes the "unbelievable" feel real enough for us to go along for the ride. Our hero stays on point the entire time and that is why Will Smith is a class act as well as a hard act to follow. This film would have bombed in lesser hands. Well done:o)

Overall it was a very good movie. It made me jump like 50 times!
Will Smith was perfect for this movie. Will definetly see it again and again!
Write a review for I Am Legend