I Am Legend Movie Reviews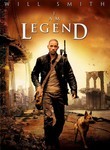 User reviews on I Am Legend
I really enjoyed this movie and recommend it to all. Will Smith did an extremely good job of portraying his character, and kept my interest throughout the entire movie. The plot is both interesting and enlightening, since something like this could happen. Everyone should watch it so they know what could happen from our misuse of both antibiotics and other items in society.

This movie was sooo good. I usually don't like movies about quarentines and stuff, but this one was the best. OMG, If I had to do something like that I would be scared to even leave my house....But anyways, it had a good ending as well. I would recommened this movie!! But prepared, there ARE some parts that made my best friend jump and even SCREAM, haha.

I really liked this movie, I mean WILL SMITH stars in it when was the last time one of his movies wasn't good? I really like the plot, but the so called dark people didn't look believeable enough for me, even though I don't know what a dark person is supposed to look like, they looked to animated. It kept me on the end of my seat that is for sure.

This movie is entertaining but does not comapre to the 1970's version of this ("The Omega Man") which was a much better adaptation of this story. In the Omega Man, the story had more depth and was more interesting, in spite of the low tech effects from that time. You get a much better sense of the people mutated by the virus; they could talk and had created an entire shadow civilization. In this new version, they are more or less mindless, growling zombies. And, in the Omega Man there was more about others (beside Neville) who also had immunity. Typical of many movies today, movie studios seem to think the public is looking for a video-game like experience and rely too much on effects, and tend to "dumb down" good stories. Don't get me wrong, its entertaining and Will Smith does a great job, but way less interesting than the "Omega Man", which I would give 4 stars. I recommend you check out "Omega Man" and see what you think on the comparison.

Huh? I can't believe all the great reviews for this movie. Yes, Will Smith is basically good in anything he makes, but this story line was so whacked! So many things left up in the air that weren't clear. Perhaps the editing department removed scenes that should have been left in? The special effects were good in the sense that the Night Freaks were pretty scary, but I think the movie was plain ridiculous.

This is another "end of the world" film but what makes it stand apart is how realistic it is - something similar to this COULD happen with our over-use of antibiotics in everything. This is also one of my favorite Will Smith movies and felt his role was stronge and emotional. The ending was unpredictable and makes you think. I highly reconmend this film.

Excellent movie. It kept me involved during the entire movie. Will Smith did an excellent job. It ran the gamut of emotions including joy and sadness. Watch it in the theater and don't wait for the DVD.

First of all, awesome movie. The movie has many intense moments of sadness, happiness, fright, comfort, awe, shock. Will Smith plays his role of Robert Neville very well giving the audience those intense moments the true effect. Lastly, I believe this is a really great movie because it really made me feel like I was a part of the movie and when the end came I didn't even realize it and just wished that it would continue! If you look at these reviews to decide on whether or not to watch, then you should definate go see it!

It is important to remember that this movie is based on a book written in 1954. Considering it was over fifty years ago, it was understandable that the screenplay would have made adaptations. Referring to the likeness to Omega Man, they are both based on the same book, but different screenplays, obviously. Will Smith is amazing and this is by the far, the best adaptation.
Write a review for I Am Legend