I Am Legend Movie Reviews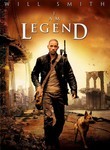 User reviews on I Am Legend
This movie was terrible. Wait for it on cable. It was good to see Will's acting is getting better. He looked good too as an older man.

We absolutely LOVED this movie! Once again, Will Smith has done an amazing job. He's really come a long way as an actor. The storyline, the characters, everything was great! The way Will Smith portrayed Dr. Nevelle was perfect. I don't want to say much more, because I'm dying to point out favorite parts, but I don't want to spoil it for those who haven't seen this movie. But I definately suggest that everyone see this movie!

Very good movie. Exact plot as Omga man from 70's. Great special effects, shots of NY are great espically if you are from here. A fun movie.

This was a great movie,the graphics were excellent we really enjoyed this movie.Will smith was brilliant and I liked the fact that it didn't have all that music,you know when something is going to happen the music changes,it made it really different but still good to watch.I would love to see the original and read the book to see what the differences are if any.

This was a really great movie about a Robert Neville is a brilliant scientist, but even he could not contain the terrible virus that was unstoppable, incurable and manmade. Somehow immune, Neville is now the last human survivor in what is left of New York City, and maybe the world. But he is not alone. He is surrounded by "the Infected"-victi ms of the plague who have mutated into carnivorous beings who can only exist in the dark and who will devour or infect anyone or anything in their path. For three years, Neville has spent his days scavenging for food and supplies and faithfully sending out radio messages, desperate to find any other survivors who might be out there. All the while, the Infected lurk in the shadows, watching Neville's every move, waiting for him to make a fatal mistake. Perhaps mankind's last, best hope, Neville is driven by only one remaining mission: to find a way to reverse the effects of the virus using his own immune blood. But his blood is also what The Infected hunt, and Neville knows he is outnumbered and quickly running out of time.

I liked this movie. Mostly because I did not know what it was to become. The CGI was not that great, but Will Smith gives a great peformance. Plot holes galore, but fun.

5 Star movie. Best movie this Winter. It was just scarry enough that you wont have nightmares but you will have your jumpy moments. I usually never likes Will Smith, but in this movie, there couldn't be a better actor.

this is the best movie ever. will smith is a genious. he is my hero now. he should win every award! it is awesome. going to see it again.

The only reason this gets two stars is because will smith done such a good job. Of course he owed me 7 bucks for wild wild west anyway. The author of this book is probably clawing his way out of the grave right now to eat the brain (if he can find it) of the screen writer that destroyed his work. The vincent price movie based on the book was twice as good and cost $14.76 to make and was made in mexico using a milk carton and a tin can. The Omega man with chuck heston was gobs better and was actually trying to explore the themes presented by the book. The book is about a virus that makes vampire like creatures. READ THE BOOK or watch the two movies that came before this travesty. Will Smith done good...special effects done good....screen writer should be killed as soon as possible.......

Will Smith is a great actor but the story line was awful, the movie played through too quickly, it ended too soon and they never bothered to show how the virus progressed and started to mutate the humans or animals infected by it. They should have taken a little more time in making this movie. Too shorth a flick for me.
Write a review for I Am Legend