Harry Potter and the Order of the Phoenix Movie Reviews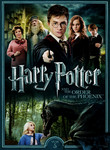 User reviews on Harry Potter and the Order of the Phoenix
To the punk a** that posted before me, you have to realize movies are a totally different type of media they often have to change things up so the audience and follow it. so what if there are differences in the movie, maybe next time don't read the book before hand!!! Numb Nuts!!!!!

****SPOILERS***
I enjoyed the movie very much, though there are a few discrepancies from the book to the movie. Even though they had to choose which plot lines to use in the movie, they were not true to the plot lines they did use. Neville finding the Room of requirement, Cho being the "sneak", Umbridge using the Veritose serum to question the students, and Harry not being asleep when he sees the "visions".

I was also disappointed by them not including a couple of scenes such as Petunia getting the howler, Fred, George and Peeves when they leave school, and the Order meeting the Dursleys at the station.

The scenes they did use were exceptionally created and Ron still has the emotion depth of a teaspoon.
Write a review for Harry Potter and the Order of the Phoenix