Hancock Movie Reviews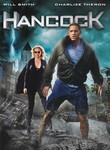 User reviews on Hancock
This should be rated R rather than PG-13. I took two 10 year old boys & had to walk out after the F bomb was dropped about 15 mins into the movie. Up to that point, the A & D words were used practically every other word. And Hanc*** walked around carrying a liquor bottle. Not a good example for children.

Good, but not great. I'd give it an 8. It was fun, but something you won't remember once you leave. Take it for what it's worth. It's kind of like eating a pretty-decent meal at Coco's.

Im go to a movie on a weekend person. My wife and I both enjoyed this movie. Will Smith delivers as usual and kept our attention. However, $6.50 for a medium popcorn? That's a crime...someone get Hanc***!

Behh.. It could have been better in my opinion. I thought it was very predictable. The ending was really bad and the whole thing with the superheroes... Yeah, I knew Hanc*** was a superhero movie but I had thought it would be different but it's pretty much like every other superhero movie.

Very, very good. But i'd say kids under about 6 or 7 years old, this is not a movie for them. Can definitely see them making a sequel.

Ok went and saw this movie Thursday, I thought it was a good movie! It was funny, had a twist I never saw coming and me and my husband really enjoyed it! It is different for Will Smith but it def. works. I think it will pull in a lot of money and was well worth the $$

This movie had a little of everything. Humor and Action. The story was not exactly what you ecpected which was good, you don't always want to know how a story is going to go ahead of time. There were a few parts that may not be good for very small children but it was not overly bloody or violent. I think a sequel would definitely be well received. The audience clapped at the end of the movie.

I CANT WHAT TO SEE THIS MOVIEIS IT GRAET OR IS IT SUCKY. WILL SMITH IS GREATSO I GIVE IT FIVE STARS I CANT WHAT TO SEE IT BY.
.

Definitely not the best plot, but from the preview you may expect it. The sarcastic, dark humor stops about half way through, and it switches gears, but worth seeing. Not worth the visual effects to see it in the theater, and Will Smith needed to stop scowling the entire movie, but you understand why by the end. As far as super-hero explanations, it ranks among the average. This is all without giving anything away, but I enjoyed it, without taking it too seriously. Will Smith, Jason Bateman, and Charrrrrrrrrrli ze Theron are great.
Write a review for Hancock